Sydney to Melbourne
Friday: Zoo and night out
For my final day in Sydney I left Matt & Cate to do their own things, and went for a look around the Chinese garden in Sydney. This was a whole load of ponds, waterfalls and plants in a nice peaceful garden. After this I walked around the markets in Sydney very briefly, before going to the Outback centre to catch a free show from a guy playing the Didgeridoo. This was quite impressive, with the guy playing it showing us how it was played, and the origins of the word (apparently Gaelic, something along the lines of "black person blowing a horn". He also offered some insight into other Aboriginee words, saying that many things were named after what they look like, or how they behave. For example, Kangaroo is
Bunda
, as that goes with its movement. Kangaroo apparently means "I don't know", as a white person asked an aboriginee the name of the bouncing animal, and the Aboriginee didn't know what the white man was talking about! :)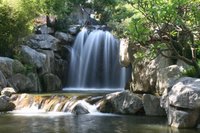 After this, I decided to catch a ferry over to Sydney Zoo. Unfortunately, I didn't really plan this very well, and managed to miss pretty much all of the shows on during the day. However, I did manage to see plenty of animals - Koalas, Kangaroos, Lions, Tigers, Snow Leopards, Bears and Otters amongst the highlights.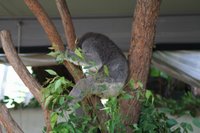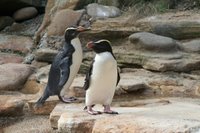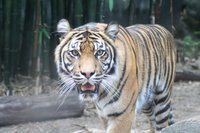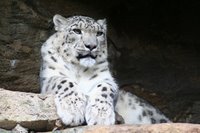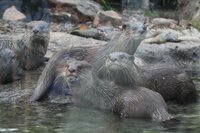 In the evening, I met back up with Matt & Cate for some food, then we headed up to Circular Quay to have a few drinks. Our first port of call was the
Minus 5 bar
, a bar in a big freezer where everything is made of ice. Because it is so cold in there, you get nice furry coats to keep you warm, and are served drinks in glasses made of ice! As you go in, you are told to make sure you use the coasters if you put your drink down, to prevent it from becoming a permanent fixture in the bar! After this, we visited a few more bars on the way home.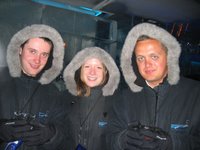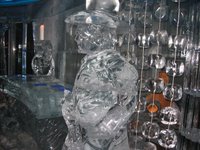 Saturday: Flight to Melbourne

Today I had to leave Sydney for my next destination, Melbourne. I spent the morning sorting out a few travel arrangements, booking some future trips in the travel agent. The weather in Sydney was quite overcast, the coolest day so far (but still 20C!). When I arrived in Melbourne, it was clear where the warm weather had gone! Bright sunshine, and easily 30+C. After checking into my hostel, the Friendly Backpacker, I went for a short walk around Melbourne and to do some shopping, then met up with Nicky & Charlie, two girls I'd met on the Kiwi Experience who were staying in the same place. Bit tired that day, so made it an early night.
Sunday: Around Melbourne
Today I went exploring Melbourne on my own, first getting the free city circle tram for a while to Federation Square, the main centre of all things Commonwealth games. The opening ceremony for the games is on Wednesday, with games starting on Thursday, so everyone was still getting ready. In Fed Sq a large TV had been put up for people to watch the games, and on the Yarra river a short distance away, a number of floats had been set up, one for each of the 70 participating countries. Each float also had a big fish next to it, for part of a parade.
I walked further down the river, and spent the rest of the day walking around the gardens and memorial sites and enjoying the weather (34+C, very sunny!), before going back to my hostel. In the evening I met back up with Julia & Linde from NZ, who were staying around here to earn some money.
Monday: Around Melbourne
Unfortunately the weather wasn't so good today, as I'd intended going off to visit the beaches at St Kilda. Instead, we walked around the art gallery and sorted out getting some tickets to the commonwealth games. The most interesting sounding event on the last day we were all in town was the Rugby 7s, so we decided to get a ticket for that. We'd picked out a session at random, but while in the queue we managed to find out who was playing. We'd definitely picked the right session - England v Australia, plus some more from England, Wales & Scotland.
The rest of the day was spent arranging a hire car so we could do a road trip tomorrow to the great ocean road, before meeting up with some more people for drinks in the evening.
Tuesday: Road Trip Day 1
First thing today, I had to check out of my hostel and collect a hire car, so that we could go on a road trip. Before we could depart for the great ocean road, however, we had to make a detour to Pin Oak Court, that very famous road (more commonly known as Ramsay St!). Nicky & Charlie were both quite keen to see this, so rather than paying the money for the official tour, we opted to find our own way. It was pretty easy to find, especially given away by the 4 white lorries parked in it - they were filming today. Not having watched Neighbours since I was an undergraduate, I had no idea who most of the people were. Unfortunately we weren't allowed up the road as they were filming, but we loitered at the bottom watching them filming. There were at least 5 of the cast there, Toady, Paul Robinson, Izzy (no idea who she is), Max, and Paul's daughter. The official tour soon turned up, and now rather than 4 people standing on a street corner with cameras, we could be part of a larger group. As we were standing there, a car pulled up and the driver said Hello. I didn't really know who he was, but apparently everyone else did - the guy who plays Max. He stopped and posed for photos with all those who wanted to.
We headed back to the hostel to drop off Charlie and pick up Orla, another from Kiwi Experience, and head off onto the great ocean road. This is a stretch of B-road that runs along the coast, with some nice views and good beaches. It took 90 mins to get to the actual road. We stopped pretty much at the first beach, as the first section of the road did not run alongside the coast (well, we couldn't see it anyway!). All the places on the road seemed to have British names - the road started in Torquay, then we stopped in Anglesea for lunch (this Anglesea is probably a lot more sunny!). After getting to the part of the road with all the nice views, we stopped a few times to take photos at viewpoints. The next mission was to find Koala bears - there were signs up along the road to beware of Kangaroos and Koalas, and Orla (who'd done this trip before) said that she remembered a place we could see them. It turns out she didn't remember that well, and we stopped a couple of random places she thought could've been it before arriving at Kennett River, at the Koala Cove Cafe (perhaps the name was a giveaway?). We parked up and walked along a road until we found a few people standing by the road pointing cameras up into trees. This looked hopeful, and sure enough there was a Koala very low in the trees eating Eucalytus leaves, and 3 more sleeping higher up in the branches. The one eating was almost low enough to reach up and touch, and many photos were taken!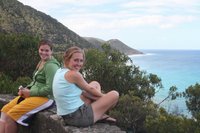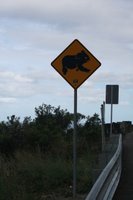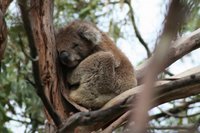 After leaving the Koalas behind, we made another stop for ice creams. At this point we realised that we would soon be running out of daylight, and still had about 100km to cover in an hour to reach the twelve apostles, a series of rock columns out in the sea. Our objective had been to take photos of these at sunset. I put my foot down, but the great ocean road isn't exactly straight! However, we just about made it in time, reaching the twelve apostles just as the sun began to set. However, this meant it was now dark and we had to try and find our hostel. Contrary to the advice given by the lonely planet, this was not in "Loch Ard Gorge", which wasn't even a town. Eventually, after many circuits of Port Campbell, we found the hostel and checked in, before going for food in the only place left open.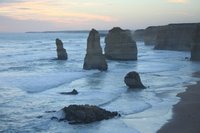 Wednesday: Road Trip Day 2
After possibly the most comfortable night's sleep since I left home, we checked out of our hostel and went to visit more of the attractive rock formations in the area. The first was "The Arch" (an arch - no really!), followed by London Bridge, what was previously two arches before the top of one collapsed, leaving two people stranded at the end in the early 90s. Then we went to Loch Ard Gorge, which consisted of many more arches. We could also see some of the apostles from here, which we went to visit again next to take some daylight photographs.
After this, we tried to cover a decent amount of ground as we were aiming to be back in Melbourne for 4:00, ready for the opening ceremony of the commonwealth games. We stopped for lunch, at which point I realised that I was not feeling particularly well. Unfortunately this got worse as we went on. Still, managed a few more viewpoints. We had a mission on this trip too - we wanted to see Kangaroos. I'd found a bit of paper saying that the golf club in Anglesea was home to 1000 kangaroos, so we'd decided that this was probably the best chance we had of seeing them. After taking a picture of a Kangaroo sign (we did this with the Koalas minutes before seeing them yesterday!), we got to the golf club. It was not well signposted, and it took us a while to find our way in. Eventually we were driving alongside a fence at the edge of the club, when we saw a couple of Kangaroos. We stopped for a bit to take some photos, then proceeded further to see if we could get any closer. We managed to get onto the course where there were a couple more, before turning around to head back. However, during this time, a load more had congregated back at the fence to say goodbye!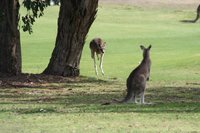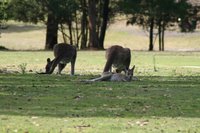 Eventually we made it back to Melbourne, and with me still stuggling with feeling very ill, managed to find the underground car park where I was supposed to leave the hire car. That marked the end of my day, as I wasn't feeling well enough to go to the opening ceremony, although I saw some of Nicky's photos later.
Thursday: Sorting stuff out
My last day in Melbourne, I am only really still here because I couldn't get my flight to Alice Springs on the day I wanted it. However, I still have some sorting out stuff to do, and we are going to the Rugby 7s tonight. Tomorrow I will be flying to Alice Springs to see Uluru, and the weather is forecast to be 34-35 for the next week :)